geeky chick dot net

by the glow of the monitor...
Alright. I'm fixing to buy a new toy within a month or so. I need your opinions. Should I buy...
The yummy new 10GB iPod for $399?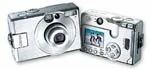 A Canon Digital Elph S330 for $399?
A Pentax Optio 330 for $420?
or... any other suggestions? Should I just save the money for the next generation of Power Macs?
TrackBack URL for this entry:
https://geekychick.net/cgi-bin/blog/mt-tb.cgi/19